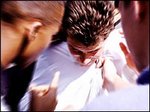 Cyber bullying
Websites urged to remove videos of students being attacked, harassed or ridiculed
The education secretary says web publishers have a "moral obligation" to cut offensive videos of people being attacked, harassed or ridiculed.
Bullying is causing many teachers to leave the profession, Alan Johnson told a teachers' conference in Belfast.
Advice to tackle such anti-social behaviour in school has been published.
'Cruel and relentless'
Addressing the annual conference of the NASUWT teachers' union, Mr Johnson highlighted new powers for teachers to confiscate mobile phones and MP3 players used for such abuse.
He told delegates: "Cyber bullying is cruel and relentless, able to follow a child beyond the school gates and into their homes.
"The online harassment of teachers is causing some to consider leaving the profession because of the defamation and humiliation they are forced to suffer."
He urged the providers of websites to "take firmer action to block or remove offensive school videos in the same way that they have commendably cut pornographic content".
"By removing the platform, we'll blunt the appeal."
Web providers, many of whom the government works with on its cyber-bullying task force, have a "wider responsibility" to consider the harm that offensive like videos of teachers or pupils often filmed on mobile phones can cause, he added.
"These are big companies we are talking about: they have a social responsibility and a moral obligation to act."
Mr Johnson said it was also important that teachers who had been subjected to this kind of bullying had speedy and effective methods of redress.
"If you're a teacher who has been maligned - then what's an easy system to take your concerns through - that's another important area for discussion," he added.
In response to questions about YouTube and Google not being on the government's cyberbullying task force, Mr Johnson said he would be asking the web firms to join the panel once again.
Teachers have been calling for tougher restrictions to be put in place to prevent them being targeted by online bullies.
They claim offensive videos of them being abused, bullied and derided by pupils affect their ability to command respect in the classroom and causes them pain.
RateMyTeachers website, which has been criticised by teachers' leaders, insists that it does read and moderate comments about teachers and argues 70% of its postings are positive.
YouTube's website says it trusts its users to "be responsible, and millions of users respect that trust".
But Chris Keates, general secretary of the NASUWT, questioned whether websites such as RateMyTeachers could adequately regulate themselves.
And she warned that extra powers for teachers to confiscate mobile phones could cause confrontations with children.